Survival Relocation Conference with Marshall Masters
Survival Relocation Conference with Marshall Masters
This one-hour private conference is ideal for building confidence as you prepare.
Marshall will help you organize a plan that makes sense for you, whether you want a me-and-mine bug-out solution or seek to establish a local survival community with like-minded others.
Take action today because, as Louis Pasteur said, "chance favors the prepared mind."
About Marshall Masters
Marshall is the publisher of Yowusa.com and Win-Win Survival Handbook: All-Hazards Safety and Future Space Colonization.  His goals are to create Win-Win communities in the State of Maine and to help clients plan similar communities elsewhere.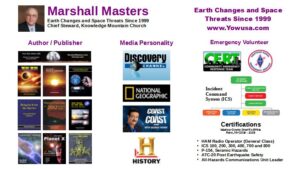 This conference program first began in the years preceding 2012.  Then, Marshall worked exclusively with wealthy preppers building private survival shelters with a typical cost of one million dollars or more, and many had a private airstrip.
Most clients were referrals.  After putting earnest money down on a bunker property, they would engage him as part of their escrow due diligence.