Survival Relocation Conference + Home Study System: Signed Paperback Editions
Survival Relocation Conference + Home Study System: Signed Paperback Editions
This super-saver value bundle is ideal for those seeking to form survival communities with like-minded others.  It includes our Home Study System plus a one-hour private survival conference with Marshall Masters.
Total Value $359 - Save 80%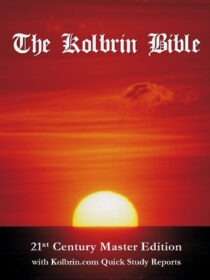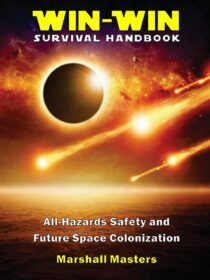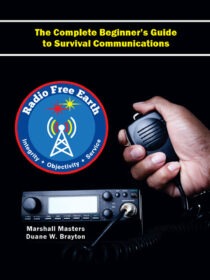 Survival Relocation Conference
This one-hour private conference is ideal for building confidence as you prepare. Marshall will help you organize a plan that makes sense for you, whether you want a me-and-mine bug-out solution or seek to establish a local survival community with like-minded others.
Marshall is the publisher of Yowusa.com and Win-Win Survival Handbook: All-Hazards Safety and Future Space Colonization.  His goals are to create Win-Win communities in the State of Maine and to help clients plan similar communities elsewhere.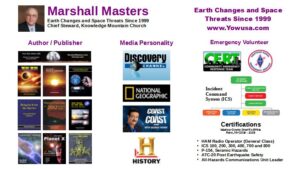 This conference program first began in the years preceding 2012.  Then, Marshall worked exclusively with wealthy preppers building private survival shelters with a typical cost of one million dollars or more, and many had a private airstrip.
Most clients were referrals.  After putting earnest money down on a bunker property, they would engage him as part of their escrow due diligence.
Home Study System
The Home Study System offers a complete home study system, and features signed editions by Marshall Masters.
The Kolbrin Bible
Referred to as the "bunker book," it features ancient survivor accounts of previous Earth disasters, including The Great Deluge (Noah's Flood) and Exodus.  It includes twenty-five media files.
Planet X and The Kolbrin Bible Connection
Warp Speed Now Exclusive: Purchase any edition of The Kolbrin Bible and receive a print copy of this book for free.  Greg Jenner is one of the top Planet X historians alive today, and he connects various Planet X predictions from the Bible and various folklore.
Win-Win Survival Handbook
Written for small communities of 100 or more people, it offers detailed plans and instructions on how to organize, build all-hazards survival structures, and feed up to 1,000 people a day with underground aquaponics.   It includes four survival video and audio media files.
Danjeon Breathing System
We are more aware of the need to boost our immune systems than ever before.  This ancient low-impact self-healing energy art offers a time-proven way to help, keep colds and touches of flu away, and helps alleviate many other routine symptoms.   It includes a full-color handbook and six DVDs.
Radio Free Earth
The ability to communicate for local security and to share information with other survivors at great distances will give small groups and communities a considerable advantage.  There are many different types of equipment, and this book explains them to you and how you can use them to reach out to others.  This book includes the 3-Part Video Series: Why Radio Free Earth, explaining the first radio you need to buy and why.
Surviving the Planet X Tribulation
Governments can and will fail and fall during a global tribulation event, which is why faith-based and non-governmental organizations will be more effective.  This book offers leaders a quick and positive way to lead their flocks to safety.  It includes two supplemental eBooks plus seven videos and audio media files.